Highly flexible and reliable, DCN-3388R UHF wireless microphone conference system is one of the ideal choices for portable conference system. It has a compact structure and a simple operation. Meanwhile, no need for further routing, our DCN-3388R fits to any conference rooms.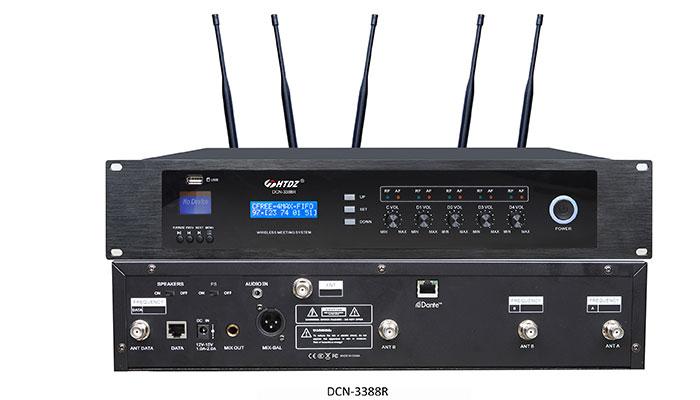 1. DCN-3388R wireless microphone conference system support different meeting modes, like, Limit (1/2/3/4), FIFO (1/2/3/4) and Chairman Only. Single audio receiver allows messages' receiving from one thousand microphones simultaneously, and when linked with central processor, video tracking for 256 microphones could be realized. Meanwhile, five microphones could be activated at the same time.
2. Signal's transmission could be realized with FM (frequency modulation), featuring high fidelity, high signal-to-noise ratio, and low latency. Unique state-of-art condenser microphone cartridge is introduced, which is resistant to whistle, highly sensitive, allowing excellent audio transmission effect.
3. Wireless transmission is introduced for both audio channel and control channel with no need for extra cable routing. Besides, the system could be installed anywhere as soon as there is a signal coverage, so conference room's displaying is more convenient.
4. The system features ultra-low power, so continuous speaking for more than eight hours or more than thirty hours stand-by is supportable. Battery of the system could be charged with DC power adapter, which could be installed directly on microphones, or charging case. Charging case is designed with intelligent power management integrated circuit, so the battery could be well protected for prolonged service life and safe us.
5. Built-in USB is installed on its audio receiver, allowing both the audio recording and playing function. Besides, when used together with a Bluetooth device, the audios inside the device could also be played with our system.
6. Built-in Dante audio transmission interface is installed.
7. The system allows an average working distance of 60m, but 80m is also possible.
Technique Specifications
System Parameter:
1. Frequency: UHF 610MHz-664.75MHz
2. Oscillation mode: PLL technology
3. Frequency stability: <+/-10PPM
4. T.H.D: <0.5%
5. Frequency response: 60Hz-16kHz
6. Dynamic range: >105dB
Receiver Parameter:
1. Frequency: UHF 610MHz-664.75MHz
2. Power adapter supply voltage: AC110V/220V 50/60Hz
3. DC input voltage: DC12V, 800mA
4. S/N Ratio: > 105dB
5. T.H.D.: <0.5%
6. Frequency response: 60Hz-16 kHz
7. Dimension: 2 U rack 19"
8. N.W:7.2kg
Microphone data refer to below link:
http://conferencesystemchina.com/1-7-2-uhf-wireless-conference-system.html